Outdoor Wedding Ideas
Planning a garden or outdoor wedding can be lots of fun. Looking for some outdoor wedding ideas for music? What should you do for music and musicians? This page offers some outdoor wedding music ideas, from specific pieces to different types of brass ensembles and string ensembles.
Size/Sound of the Setting
How far sound carries varies according to several different environmental factors: how enclosed the ceremony area is (ie surrounded by trees, walls, buildings), the background noise (ocean, wind, roads), and the number of people attending. In general, when thinking about the attendees, add one musician for each additional 50 people over 150.
Based on those factors, we take into account the size of the instrument and the range or pitch of the instrument (higher pitches tend to carry better than lower pitches). Temperature can also be a factor. If there's a chance it's going to be 60 degrees or cooler, go for brass rather than strings, as the wood in the string instruments can be flaky at lower temperatures. After taking everything into consideration, we came up with the following chart to help guide you:
| Location | Enclosure | Noise | Musicians | Recommendations |
| --- | --- | --- | --- | --- |
| Yard/Gazebo | Intimate | Minimal | 2-3 | String duo or trio, possibly a trio with violin, cello, and trumpet; piano and trumpet or piano and violin if there's power for an electric piano |
| Park/Gazebo | Open | Some | 3-4 | Brass trio or quartet; string trio or quartet, possibly a quartet with violin, cello, french horn, and trumpet; piano and two trumpets |
| Ocean/Beach | Wide | Loud | 4-5 | Brass quartet or quintet; possibly a string quartet with trumpet; if it's a very small wedding, you could get away with a brass or string trio |
Placement of Musicians
The musicians should be placed toward the front of the ceremony area, near where the bride and groom will stand, but off to the side far enough so they don't encroach on pictures. This way, the musicians can arrange themselves so they can see the bridal party as they walk down the aisle and the bride/groom as they leave the ceremony. In addition, the musicians will face the attandees so everyone can hear the music. This is especially important in open spaces or venues with alot of background noise, like marinas, beaches, and public parks. Some venues have raised or tiered areas - placing the musicians slightly higher than the ceremony will help the sound carry better.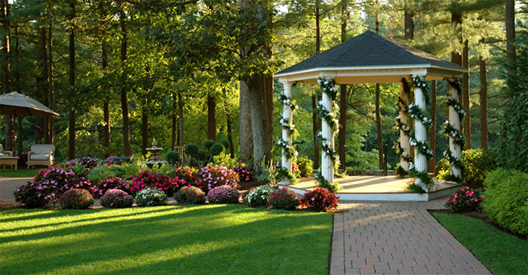 Lake View Pavilion in Foxboro, MA
If there are topics you'd like to know more about, or other topics you'd like to see here, please contact us.