Brass Ensembles
You know you like the sound of the trumpet, or at least the idea of a "regal" sound, but don't know the different instruments or possibilities in the brass genre. Look no further! We've laid out the various instruments in the brass family, typical brass ensembles, and even some of the popular brass ensemble pieces.
Brass Instruments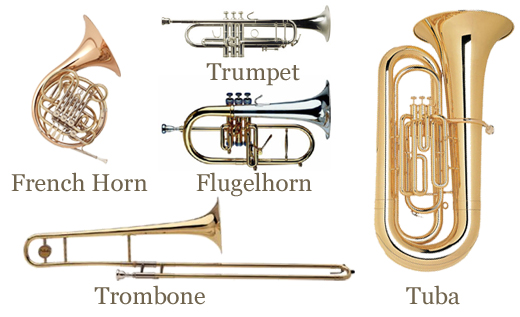 | Instrument | Description/Notes |
| --- | --- |
| Trumpet | Trumpets have the highest pitch of the brass instruments, equally at home in classical and jazz settings. Great for wedding pro/recessionals! |
| Flugelhorn | Half way between trumpet and french horn, sounds like a mellow trumpet. Great for wedding preludes and cocktail hours. |
| French Horn | A coiled brass instrument with a large range and a very colorful, mellow sound. Great when paired with trumpet or piano/organ. |
| Trombone | Includes tenor trombone, bass trombone, and baritone/euphonium. Great low sound for trios and quartets. Also a great jazz horn. |
| Tuba | The lowest pitch of the brass family, the tuba adds an amazing "bottom" or bass sound to a brass quintet and New Orleans style pieces. |
Brass Ensembles
The size of the ensemble is up to you. This section describes the typical setup for each ensemble. If you don't see something you want, just contact us and we'll be happy to put together something just for you.
| Ensemble | Description/Notes |
| --- | --- |
| Soloist | A trumpet or french horn soloist, usually with piano or organ accompaniment (provided by you or by us). Also available a capella for outdoor events, fanfares, funerals, etc. |
| Duo | The most popular are two trumpets or trumpet and french horn, but trumpet and trombone is becoming more popular. Again, piano/organ accompaniment or a capella both sound great. |
| Trio | Trumpet, french horn, and trombone. This is a classic ensemble and works very well for outdoor weddings, events, and more. Has a nice rounded (but smaller) sound. |
| Quartet | Two trumpets, french horn, and trombone. Sounds like a much fuller ensemble and really fills a church or an outdoor wedding ceremony/event. |
| Quintet | Two trumpets, french horn, trombone, tuba. The tuba adds another dimension to the sound. Perfect for graduations, outdoor weddings, and cocktail hours. |
Popular Brass Pieces
This is just a sampling of pieces that are great for brass ensembles. To hear even more samples, visit our songlist section, especially the wedding and ceremonial music page.
| Piece | Composer | Traditionally Used For... | Trumpet | Brass |
| --- | --- | --- | --- | --- |
| Ave Maria | Schubert | Prelude/Mothers | MP3 | |
| Trumpet Voluntary | Clarke | Processional | MP3 | MP3 |
| Rigaudon | Campra | Processional | | MP3 |
| Trumpet Tune | Purcell | Recessional | MP3 | MP3 |
| Te Deum | Charpentier | Recessional | MP3 | |
If there are topics you'd like to know more about, or other topics you'd like to see here, please contact us.