History and Future
Occasional Brass was started in June 2001 by two UMass Amherst alumni and former members of a popular funk band called Rippopotamus. DB (aka Bryan) and Russell had played across the country and opened for acts such as Queen Latifah, Phish, Fishbone, and the Beastie Boys. But one of Russell's co-workers was getting married, and Russell happened to have a book of quintet music from college. From there, they had a few rehearsals, bought a bunch of music, and the Occasional Brass Quintet was born. Wanting to keep a good balance between their classical training at UMass and their love of all things funk/rock, they set out to create something that transcended traditional brass quintets. Above all, they would have fun. And by proxy, so
would anyone that listened to them.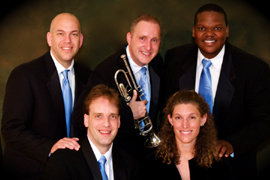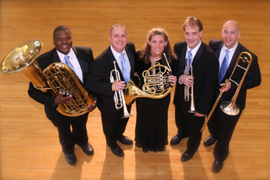 In late 2006, Bryan decided to expand the offering by adding strings and woodwinds, and changed the name to Occasional Brass & Strings. Today we have an award winning array of musicians in and around Boston, Newport, Providence, Worcester, Hartford, even New Hampshire and Maine! Because we use local musicians, there are very rarely any travel fees. We have transformed into a variable ensemble, as we now have music for duo, trio, quartet, and quintet. We are still having a good time, and hope to continue the trend far into the future. We look for musicians that have a love of good music, balanced with a need to get funky once in a while. Learn more about some of them here...
Musicians
This is a sampling of the amazing musicians we have available. Click the musician's name to see their biography:
Brass
Alexandra Johnson
, Trumpet
Ami Fields
, French Horn
Andy Cormier
, Trumpet
Angel Subero
, Trombone
Brian Wallace
, Trumpet
Bryan Hilliard
, Trumpet
Chris Oberholtzer
, Trombone
Clayton DeWalt
, Trombone
Dan Linden
, Trombone
Diantha Millott
, French Horn
Grant Randall
, Trombone
Jerome Smith
, Tuba
Jerome Stover
, Tuba
Kathleen Doran
, Trumpet
Megan Riccio
, French Horn
Michael Stephan
, Tuba
Neil Godwin
, French Horn
Rachel Daly
, French Horn
Russ Bogartz
, Trombone
Stan Johnson
, Trumpet
Takatsugu Hagiwara
, Tuba
Thomas Gregory
, Tuba
Percussion
Josh Goldman
, Percussion
Strings
Abby Swidler
, Violin
Abigale Reisman
, Violin
Andrew Waid
, Viola
Amy Ripka
, Violin
Angel Hernandez
, Violin
Annalisa Boerner
, Viola
Barbara Zdravesky
, Cello
Ben Swartz
, Cello
Bethany Landby Stephan
, Violin
Bozena O'Brien
, Violin
Caroline Reiner-Williams
, Cello
Chris Baum
, Violin
Diane Guillemette
, Viola
Eliza Kopczynska
, Violin
Emily Lewis
, Harp
Eve Boltax
, Viola
Jeanne Drumm
, Viola
Jessica Helie
, Violin
Jordan Voelker
, Viola
Juli Miller
, Harp
Junko Fujiwara
, Cello
Kevin Scollins
, Guitar
Kristen Drymala
, Cello
Laura Messina
, Cello
Lauren Nelson
, Viola
Lizary Rodriguez
, Harp
Lynne Canavan
, Violin
Megan Koch
, Cello
Meghan O'Connor
, Violin
Melissa Bull
, Violin
Naomi Steckman
, Cello
Olga Kouznetsova
, Violin
Rachel Barringer
, Cello
Rachel Gawell
, Cello
Rachel Panitch
, Violin
Robert Bekkers
, Guitar
Sara Wilkins
, Cello
Sassan Haghighi
, Cello
Shay Rudolph
, Cello
Susan Kirchhausen
, Viola
Tev Stevig
, Guitar
Valerie Thompson
, Cello
Zoia Bologovsky
, Violin
Woodwinds
Jerry Merra
, Sax/Flute
Linda Chase
, Flute
Mana Washio
, Flute
Mark Zaleski
, Sax/Clarinet
Nicole DeMaio
, Flute/Sax
Todd Brunel
, Clarinet
Tom Cox
, Flute
Wendy Klein
, Flute
Piano/Organ
Brian Friedland
, Piano
Emmett Harrity
, Piano
Helena Veranian
, Piano/Organ
Jeanne Drumm
, Piano
Joe Reid
, Piano
Lianne Goodwin
, Piano
Melissa Bull
, Piano/Organ
Monique Byrnes
, Piano/Organ
Vocals
Aubrey Johnson
Jennie Backstrom
John Stevens
Kathleen Doran
Lianne Goodwin
Monique Byrnes
Renee Legendre
Stephanie Scarcella